Follow the steps below to make corrections, or upload supporting documents, to an open DOI on hold for corrections.
1. Login to the "Online Portal"

2. Navigate to the "Invest DOI" tab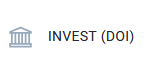 3. Find your open DOI and click the 3 dots to the right

4. Select "Continue DOI"

4. Make any corrections necessary to DOI - or - Upload required documents using "Choose File" button


5. Click "Next" to submit for review

Edit a DOI
Login to your online account
Navigate to the "Invest (DOI)" tab
Find your open DOI (should say draft)
There are 3 dots on the right of the DOI, click "Continue DOI"
Make any corrections needed
Upload any required documents
Click "Next" to submit for review
You have successfully edited a DOI! If you're unable to Edit a DOI after following the steps above, please contact our Customer Support Team at support@iracentral.com or click the Help button to chat with us now.